History of the Community Centre
By Debenie Morse
We are all so familiar with the Community Centre, with its huge slate roof and concrete entrance ramp, its community garden under the trees and its high cafe window onto the busy carpark, that it's hard to imagine a time without it; when the whole site was just a rough field off the main road, owned by the Town Council. But that's how it was in 1980, when fundraising for a modern multi-purpose sports and community centre for Lostwithiel first began.
How it started - a vision, a plan and a lot of hard work
As usual with ambitious public projects, it took a vision, one determined individual well placed to make things happen, plus enough enthusiastic supporters with skills, energy, time and commitment to make that vision a reality. Lostwithiel in 1980 had all these factors in place. Ask anyone who was the driving force behind the building of the Centre and they'll say "Rex Stephens". Lostwithiel born and bred, from a local farming family, Rex had already been Mayor twice and a Town Councillor for many years. He knew the Town Council had put a sum of money aside just after WW2, intended for a Memorial Hall, and he was determined to make it happen. And so the Lostwithiel Community Association was formed. Rex started the fundraising campaign with a donation of £50, and personally raised a great deal more from friends and business acquaintances.
Crucial in helping Rex achieve his aim was - perhaps surprisingly - Lostwithiel Playgroup. This was started in 1969 by a group of young mothers in Town, Cllr John Read's wife Jill being founder member and President. Playgroup was busy and popular, with many young families moving into Lostwithiel. No government funding for nursery education in those days. Playgroup was run by a committee of mothers some of whom trained and qualified with the PreSchool Playgroup Association in order to lead the group. Suitable premises were a problem - they met initially in a room at the Bank Chapel, with no outdoor playspace. So when the possibility of a purpose-built Community Centre arose, the young mums of the Playgroup Committee, with dynamic Meg Breckon as Chair, threw themselves into the LCA fundraising campaign to build a Community Centre which could include a room for Playgroup.
Meg Breckon
During 1980 Rex and the newly formed LCA committee held open meetings about the proposed Centre, with a model displayed in a shop window to get everyone interested. The amount to be raised was daunting: this was not to be a one-room Meeting Hall but an extensive modern building incorporating a large sports/events hall but also squash court, kitchen, bar, and smaller meeting rooms. The design was by the same architects as a groundbreaking new Centre just built in Ludgvan.
The target was to raise £10,000 in the first year, which with the Memorial Hall Fund and another £2000 promised by the Town Council would enable building to start. Jonathan Barker, an LCA Committee member and photographer, with a young daughter at Playgroup, started Lostwithiel Newsletter (then just a couple of photocopied sheets) in November 1980. lt was distributed monthly, to keep the Town informed of the progress of the project, and the many fundraising events organised.
Lostwithiel Newsletter November 1980
The Fundraising Marathon
The first LCA fundraiser, in November 1980, was designed to bring local people together as supporters as well as to raise funds. lt was a five mile woodland and riverside walk finishing in Lerryn. All ages took part - the youngest walker being 3 years old! lt proved an enjoyable success, bringing in over £00, increasing LCA membership and support from the Town. A monthly lottery was started, there were raffles with generously donated prizes, fashion shows, discos, a monthly cake stall, concerts and dances. A major moneyspinner proved to be the very popular Safari Suppers, where a different course was provided at each house. Helen Terry remembers these becoming more and more elaborate, to the point where people became nervous to volunteer as hosts in case their culinary skills were found wanting - fortunately Meg brought them back down to earth by providing Bangers & Mash for the next supper!
lt became clear that Coffee Mornings, Jumble Sales and Raffles couldn't raise enough capital to gain match funding and enable building to begin; it needed a large venue to put on a really big event and raise serious money. Ralph Broad and Meg Breckon approached Graham McNally of Cornish Leisure World, who owned Cornwall Coliseum - part of a very popular leisure and entertainment complex right on the beach at Carlyon Bay. Was there an event he'd like them to organise at the Coliseum, with LCA taking a percentage of profits? As it happened, yes he'd fancied putting on a Custom Car Show, but had been too busy to spare the time. lt would take a daunting· amount of research and organisation - no internet then - but the fundraisers were undeterred. With news of the car show, a local garage generously offered the LCA a new Ford Fiesta to be raffled, with tickets to go on sale immediately and payment (at cost price) deferred. lt was displayed- and tickets sold by a growing band of volunteers - at events all over Cornwall that summer, with the raffle to be drawn at the end of the show in September 1981.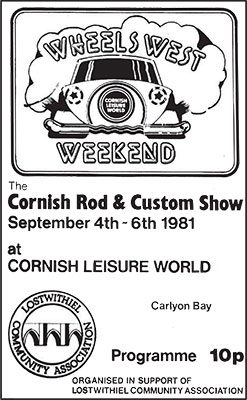 Ralph, Meg, and Sue Grigg took on the enormous task of organising the show. Christened the 'Wheels West Weekend' it proved a huge success (and a lot of fun) raising about £5,000 plus £2,000 from the Fiesta raffle. The LCA target of raising £10,000 in 12 months was exceeded, local support was galvanised and an application to the government 'Manpower' scheme funded the cost of labour to actually build the Centre.
There were two Ford Fiesta Raffles, the first in 1981, drawn at the first Wheels West Weekend that September, and won by a lady in Falmouth, and the second drawn at the last Wheels West Weekend in 1985 won by a Lerryn resident. Both cars were supplied by Four Turnings Auto Services.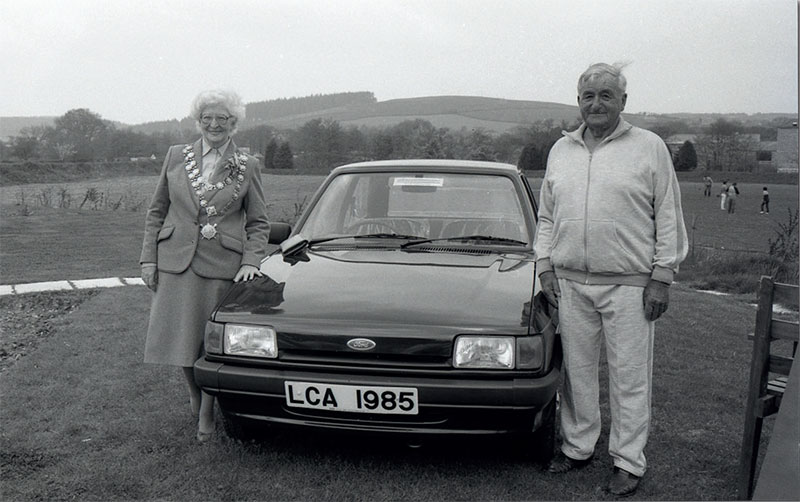 Mayor Gwen Powell-Jones with Rex Stephens and the car which was raffled in 1985
The 'Wheels West Weekends' were repeated annually through to 1985, raising significant funds towards the ongoing costs of establishing and equipping the Centre.
At last the build - and a few sleepless nights
In 1981 both unemployment and inflation were very high. Times were difficult. To reduce unemployment, the Manpower Services Commission would support local bodies with projects to improve their area, in partnership with local Job Centres, by paying the wages of the workforce needed. Organisations involved had to meet the cost of materials and all other expenses. The MSC scheme stipulated that all the workforce must have been unemployed for at least 6 months.
Fran Dennison
Fran Dennison, having completed a full time Business Admin course, was appointed Site Manager for the LCA - very much learning on the job! Building finally started in September 1981, with a caravan as site office and a site foreman employed. And another. And another. After a couple of false starts, the third foreman proved excellent, remaining for the whole build. The men sent by the Job Centre were "a motley crew; sorne were excellent and worked hard and for some, work was the last thing they wanted." The level of relevant skills was ... mixed, and there were some hair-raising stories from the build. While digging a trench beside the main road, an unmarked cable was cut, which turned out to be the main cable between Goonhilly Downs and the Post Office Tower in London; unmarked for security reasons. A huge fine was threatened for transatlantic calls lost - but fortunately the LCA successfully pleaded poverty, as a small local charity who could not have known the cable was there.
Construction of the Centre in progress
Restorme! Borough Council had given Planning Permission for the Centre, but were apparently not at all supportive. Their Chief Planning Officer, in particular, was hypercritical, even refusing the Centre's connection to the town sewer at one point, and had to be dealt with firmly. The Manpower Services team, based in Exeter, were however very helpful and "bent the rules many times to assist us". The architect made several visits, disappointed to find corners had been cut to save money, somewhat compromising his initial vision. Building the squash court was a particular problem, as it had been the site of an old pond, which had to be infilled to some depth to provide a firm foundation. Most plumbing was done by a local plumber for the cost of materials only. A Time Capsule, with items collected by Lostwithiel and St Winnow schools, was built into the walls - who remembers what is inside?
At last, in May 1983, the brand new Centre was complete. Building works were signed off, services connected, and basic facilities installed. Much still remained to be done, so continued fundraising was essential to furnish, equip and decorate the building - but Lostwithiel had a Community Centre, built through its own efforts, that it could be proud of. A huge Sports and Events Hall, Kitchen, Day Room, Viewing Gallery, Bar, Squash Court, and two Meeting Rooms, plus Reception, Changing Rooms and Toilets. Fran remembers: At the end of the project the Manpower Services manager shook me by the hand said "Good luck! The first ten years will be the easiest. After that, new people in the town won't appreciate it as much as you people who enabled it to be built."
Official Opening 14th May 1983 – Incoming Mayor Gwen Powell-Jones, LCA Chair Rex Stephens, Outgoing Mayor Paul Brewer
The doors open to Lostwithiel
Now the Centre could open. Pat Wilton, Shirley Hendicott and Gloria Sanders were employed to organise Reception and bookings, run the kitchen, and supervise the Centre during opening hours, and were on hand to welcome the public and sign up new members to the LCA. They staffed the Centre - with many volunteers and helpers for over twenty years and through many changes.
Under the heading COMMUNITY CENTRE OPENS the front page of the May 1983 edition of Lostwithiel Newsletter - 2 sheets photocopied on pink paper by Stella lsaacs - announced:
THE CHAIRMAN OF THE LCA, MR REX STEPHENS, AND THE COMMITTEE WOULD LIKE TO PUBLICLY EXPRESS THEIR SINCERE THANKS TO ALL THE ORGANISATIONS, TRADESMEN AND INDIVIDUALS (TOO NUMEROUS TO MENTION BY NAME) WHO HAVE HELPED PREPARE THE CENTRE FOR THE OPENING TODAY - SATURDAY MAY 14TH 1983 - WITHOUT YOUR WILLING HELP IT COULD NOT HAVE BEEN DONE. THANK YOU, ONE AND ALL.
lt went on to announce: As from 9am on Saturday 14th May 1983 until Friday 20th May 1983 (included) the facilities at the Centre will be free of charge to everyone, whether members or not. If you require a booking for the badminton courts simply ring 872 207.
Saturdav 14th from 10am Coffee Morning with homemade produce, plant stall, jumble and much more. Light refreshments available. Table Tennis and Snooker tables ready to use and for the whole week.
Sunday 15th from 10am -12 noon Roller Skating, no metal wheels. Plastic, Rubber or similar OK. Tea, Coffee, Soft Drinks, Crisps etc on sale throughout the week.
Lostwithiel Newsletter May 1983
Paintings entered for an LCA competition for the children of Lostwithiel were on display around the building, and with over 100 entries, they must have brightened up the walls considerably. lt seems rather a low key opening after the tremendous energy and inventiveness of the fundraising campaign and the sheer hard slog of the build, but the Centre was now Lostwithiel's, to make what it wished.
Fran remembers: On the opening weekend there was a roller skating session for kids. A little girl aged about ten came up, gave me a big hug and said "That's Ace. That's the Acest thing that ever happened in Lostwithiel."
Perhaps the real celebration came with the 1st Birthday of the Centre: a big Open Day showcasing all the facilities the Centre now provided and the numerous groups and activities which were by then making the Centre a place of buzzing activity and enjoyment. The May 1984 newsletter - pink again, and now edited by Fran Dennison - invited everyone to 'Come and Celebrate our 1st Anniversary on Saturday 12th May in the Centre with SPECIAL EVENTS, STALLS, RAFFLES, DEMONSTRATIONS, ENTERTAINMENT, REFRESHMENTS THROUGHOUT THE DAY.' At 3pm in the Centre, following a Civic Procession (some things never change) was the investiture of Rex Stephens as the 1st Honoured Burgess of Lostwithiel, by the new Mayor, Gwen Powell-Jones.
1st Birthday Open Day May 1984 Ladies' Keep Fit Demo
A Community Centre for the Town
In the years that followed, the Centre developed into a hub for many of the groups which have always flourished in Lostwithiel. Many large functions, weddings, dinner dances, balls and buffets were held in the main hall - immaculately decorated and catered by Pat, Shirley and their helpers. Playgroup flourished five days a week in what's now the Reading Room, with an outside area paved for play with bikes and trikes. In 1989 new wooden play equipment was installed by the Town Council in the area now the Community Garden. Badminton courts were fully booked, and Youth Badminton, coached by 'Titch' Pearce, was very successful. There was a Youth Club; for Lostwithielites who grew up in the 1980s and '90s, the regular Roller Discos are the outstanding memory. For many years there was a super-competitive Squash League, in which Fran Doney excelled. The upstairs Bar had its own membership, regulars, and Darts teams. Fundraising continued for a modular stage - a big outlay - well used for events, functions, concerts and dramatic performances, and for heavy floor to ceiling curtaining to cover the bare concrete walls of the Hall during functions and entertainments. Ladies involved in sewing said curtains - including Meg, Fran, and Angie May - will, I think, never forget the challenge of dealing with such enormous quantities of expensive fabric!
Right through the 1980s and into the '90s a major Summer fundraiser was cooking and serving Saturday Morning Breakfasts for travel weary holidaymakers. Teams of volunteers competed to raise the most money - the Riff Raff team featured fancy dress, Pete Turner on the piano and rollerskating waitresses! Furniture and sports equipment was bought and donated, the kitchen gradually upgraded, lighting and sound equipment purchased, the surrounding garden area planted and the car park tarmacked. Pleyber Christ Way was officially opened, and named after Lostwithiel's twin town in Brittany.
Every month brought Car Boot Sales, Flea Markets, a Farmers' Market (the first in Cornwall) and performances not only by Lostwithiel Players and Old Time Music Hall, but by now internationally renowned - then local - Kneehigh Theatre and the plays of Nick Darke. Each September Lostwithiel Produce Show filled the Hall with prizewinning fruit, flowers and vegetables, arts and crafts, schools entries, and even a pets section - plus of course delicious teas. At Christmas the Pageant filled the stage with costumed Nativity characters, before carol singing round the Town with the Town Band.
In 1983 the Tourist lnformation Centre opened, managed by Gloria Sanders. lt carried holiday brochures for the whole of the UK, could book holidays and trips for locals, and provided a wealth of information about local attractions, facilities and accommodation. When the Eden Project opened, the TIC had a very profitable ticket concession for the crowds flocking to visit. 1998/9 saw the construction of the Oasis Youth Centre at the rear of the building- this time with Lottery Funding.
Pat Wilton, Gloria Sanders and Shirley Hendicott at the busy Tourist Information Centre
From then til Now
Over the decades the Centre inevitably had its ups and downs. The cost of running and maintaining such a big building has always been a challenge, and those joining the Committee - and especially the Chair- take on a lot of responsibility and hard work. With that comes the satisfaction of making a rear contribution to the Town, but also a fair amount of flak on occasion. Staff have contributed voluntarily way beyond their paid hours, and there has been an ever changing army of volunteers without whom the Centre could never survive.
The big building with its distinctive roof hosted - amongst much else - The Headway Centre, the Town Band, Prize Bingo, Dog Display Teams, Apple and Pumpkin Days, Beer and Cider Festivals, Antiques Fairs, Teddy Bear and Dollshouse Fairs, Language Classes, Mental Health groups, always the Mayor's Ball, Conferences, Electric Car Racing, Children's Discos , Birthday Parties and some fantastic evenings with Miracle Theatre, Wurlitza, the Kernow King and bands like Tango in the Night and Company B, not to mention Richard Bower's Lostwithiel jazz Cafe, started in 2014 in the upstairs Bar.
In 2012 it served as Emergency Centre and Refuge during severe flooding in the Town. Sadly, funding cuts for youth workers in the austerity years meant that despite volunteer efforts, there is now no youth club at the Centre. Local TIC funding was also withdrawn. The Squash Court is no longer used as such and for a time was HQ of a Food Share scheme.
The end?
In May 2016, out of the blue, discovery of construction flaws in the main gable wall almost brought an end to the Centre, threatening to make the cost of insurance unmanageable. The then Committee took the decision to close down, making all staff redundant, and the LCA ceased trading. This would also have meant the end of Lostwithiel Newsletter, based at the Centre Reception, but Debenie offered to continue it voluntarily from home, with Lostwithiel Business Group providing banking facilities. Lostwithiel Post Office and Lloyds Bank also closed that summer, and Library staffing was withdrawn by Cornwall Council - it would have been too much if the Newsletter had disappeared too. In the event, it has thrived and grown independently. After a year of closure, in 2017 the Centre was able to reopen, works to remedy the structural defects having proved much less costly than anticipated. Menheniot Post Office now operates two sessions a week at the Centre, and a fortnightly mobile Lloyds Bank van parks outside.
Covid 19 - The Centre sees Lostwithiel through
In 2020 new Centre manager Kirsty Mitchell was in the job just ten weeks when the Covid-19 Pandemic struck and the first lockdown was announced. All social and commercial activity ceased; we were confined strictly to our homes by this unknown virus with a scarily mounting death toll. The Town was empty, the Centre locked and shuttered, the roads virtually empty. What was to be done? No one knew who might get ill next, who would need help, how people would manage.
Now the Centre showed its real value. Lostwithiel resident Emma Raven, with Kirsty, plus Anthony Berry from Rotary, called a meeting with Jack the Tri Service Officer, Colin Martin and Revd Sheila. They formed Covid 19 Support For Lostwithiel, and put out a Facebook call for volunteers to deliver food and necessities, collect prescriptions etc or just answer a call for help. Volunteers were organised according to where they lived - one to cover every street in Lostwithiel. Postie Karen sorted all the letters with street volunteers' contact details and arranged to get them dropped through every door, so by the end of the week everyone in Lostwithiel knew who they could contact if in need.
Revd Sheila had been given a large donation to spend on food etc for Lostwithiel people in need. With the Centre closed, the Hall became a distribution centre. Over 500 boxes of essential food and necessities like nappies were delivered during lockdown to very grateful families in and around Town, funded initially by the donation, then by a National Lottery grant. Kirsty can be proud of what she, Emma, Anthony and Revd Sheila, with all their volunteers, achieved at a time of crisis.
Rainbow hands made by Lostwithiel children during Covid 19
Looking ahead
In 2023 the Centre is once again a bustling friendly place with a popular Cafe, flourishing Community Garden, activities for all ages, regular events and continual innovation. The amazing Christmas Grottos created by Kirsty with Sal, Jude and other talented helpers are becoming a legend; over 500 children visited last Christmas.
Lostwithiel is lucky to have a true Community Centre as it celebrates its 40th year - let's hope it can count on our support for many years to come.
Fran Dennison, Meg Breckon, Sue Grigg and Kirsty Mitchell cut the cake at the Centre's 40th birthday